FlaRed's Great List's of Links

Peaceful Habitations Rose Gardens: A True feast for the eyes
Ambrose Gardens: Your site for the home gardener in you
The Visual Gardens: Online tour of some beautiful gardens
Overbrooke Gardens: Bucks County, PA. USA
Green Thumb Memeber: New links on roses


ON LINE ORDERING
"Extraordinary Florist Qualitiy Dahlia Tubers" A Great Site of Dahlia's
Nor'East Miniature Roses, Inc.: On line ordering and Free catalog
Ortho Company: Useful Information and Products

Antique Rose Emporium: On line ordering and Free catalog

MY PERSONAL CONTACT LINKS
[
] - [
]
[ GuestBook by TheGuestBook.com ] -

I Dedicate this Page to My Father:
My Rose Garden:
My Rose Garden Continued:


This Perfect Rose Webring site owned by Carol Jean Trevena.
|Previous| |Next| |Skip Next|
<!begin Webring code...>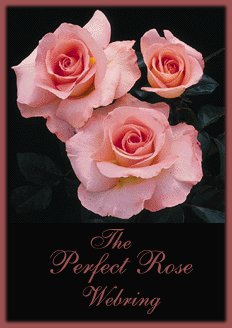 Next 5 Sites| |Random Site| |List Sites
<!begin ring code...>
This Friends of the Garden site is owned by CAROL JEAN TREVENA.
[NEXT | PREVIOUS | SKIP | NEXT-5 | RANDOM ]
Click here for information about joining this web ring.